Actions
It's holiday season once again
19 | 12 | 2022
Dear fellow Olympians,
It's holiday season once again. I'd like to thank you all for all your hard work as ambassadors of the Olympic spirit this year. We've enjoyed seeing your many projects and events which we have highlighted on our website, our social media and occasionally on our press releases. Please keep up the good work next year. You not only help your fellow Olympians and your communities, but you are also an inspiration to other Olympians and NOAs who see that they can also do what you do.
This was a very busy year for us. We were very happy to welcome three new National Olympians Associations in Liberia, Brasil and Spain. There are a few others who are nearly ready to apply for membership. If you know of any Olympian who would like to set up an NOA in their country please contact us at info@thewoa.org and one of our Development Officers will reach out to help them through the process.
There were a number of major events this year including the Winter Games in Beijing. OLY House Beijing 2022 was fully online, following in the footsteps of Tokyo 2020 where OLY House was also fully online when the Games were held in 2021. Among the many activities during Games-time we celebrated five more Olympians who achieved both on the field of play and in their lives after retirement from competitive sport in Olympians for Life and we created our second edition of Leave your Mark, the souvenir poster created from the signatures of hundreds of Olympians which this time had a Chinese visual theme. Our National Associations celebrated the Games with their own events. Cape Verde Olympians, for instance, translated the Winter Games into their own sporting culture by running a big rollerblading event to emulate the skills and experience of ice skating.
It wasn't all positive news this year but your response to the events in Ukraine has been very positive. Following an appeal from Ukrainian Olympians we launched #OlympiansforUkraine. The money donated from Olympians around the world helped fund projects like the one in Lithuania which aims to give a sense of home life for Ukrainian refugee children. The project's activities include athletic, cultural and health promoting events and language learning and drawing lessons. One such activity was led by Olympian boxer Vidas Biciulaitis OLY. He taught the kids boxing while telling them about his Olympic experiences and the ideals of Olympism and the Olympic Movement.
Every year we award Service to Society and Service to Olympians grants for Olympian-led projects. As an example, one of the projects we funded this year was in Mauritania where Olympians went into the slums with doctors, dentists and other medical professionals to bring medical support to kids who rarely get medical care and treatment. While the medical team performed on the spot consultations and procedures, the Olympians played with the kids helping them over their fears while telling them about the summer and winter games. The 2023 Grant application process will open in the first few months of next year. So start thinking about what projects or events you would like us to help you with.
2022 was the fifth anniversary of the founding of OLY, the post-nominal letters you can use after their name to give 24/7recognition of your sporting achievements. There were many OLY Celebrations but the most unique one was in Mexico where the Olympians Association, as part of their Day of the Dead celebrations, awarded OLY certificates to the families and friends of ten of the most iconic Olympians in Mexican history who have passed away. Traditional altars inspired by the Olympic Values were designed for the Olympians.
This year we announced a new partnership with the city of Istanbul. Istanbul will host the third edition of the WOA's World Olympians Forum which brings together Olympians from all five continents next year to discuss and workshop the best ways to bring the values of the Olympic Movement to life in their communities through service to society projects and events. The historic city of Istanbul is a potent symbol of the inclusive values of the Olympic Movement, standing as it does as a gateway between continents and cultures. The World Olympians Forum is one of many special events to be hosted next year in Turkey as part of the celebrations of the centenary of the founding of the Turkish Republic. More news on the Forum after the holidays.
Finally, I would like to thank you once again and wish you all the best for the holiday season, however you celebrate it. This is a good time to think about what we are grateful for: our families and friends, everything we have achieved in sport and society and our wonderful, warm and supportive Olympian community.
All the best for 2023. And best Olympian regards.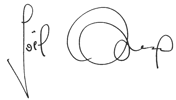 Joël Bouzou OLY
President