Actions
World Olympians Forum launched in Istanbul
10 | 8 | 2023
The third WOA World Olympians Forum (WOF) was officially launched in Istanbul during a press conference hosted by the mayor of the city Ekrem Imamoglu and WOA President Joël Bouzou OLY.
The WOF will be held in Istanbul on 16-17 September 2023. Previous World Olympians Forums were held in Moscow in 2015 and in Lausanne in 2019.
Olympians as positive role models to promote physical activity and social inclusion, especially for youth, was a central point of the press conference, as well as the universal language of sport as a tool to achieve the Olympic goals of social peace and solidarity.
Mayor Ekrem Imamoglu said, "Olympians will come to our country from all over the world. This group of 150 people are not ordinary guests. Olympic athletes are a powerful source of inspiration for people of all ages. They have created stories that set an example for our children, not just in sports, but in their entire lives."
WOA President Joël Bouzou OLY said: "We aim to inspire our members through them sharing their best practices and the projects they run so that Olympians can give back to their communities, whether they live here in Istanbul, in Turkey or anywhere in the world. And where better to inspire people than the inspirational city of Istanbul."
Following the speeches, Ferhat Arican OLY, who brought the first Olympic medal in gymnastics to Türkiye by winning the bronze medal in the parallel bar at Tokyo 2020, and Nafia Kus OLY, who won gold medals at the 2023 World Taekwondo and 2018 European Taekwondo Championships and represented Turkey in Tokyo 2020, were presented with their OLY certificates in a special ceremony.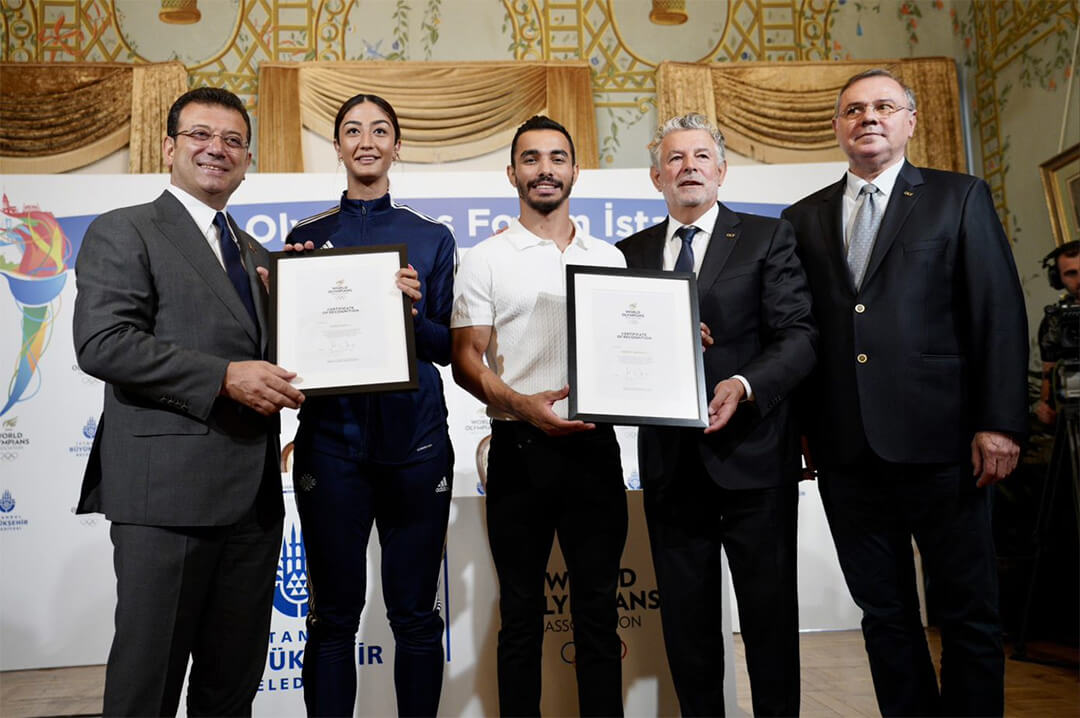 See the official report on the press conference here: https://www.ibb.istanbul/arsiv/41077/imamoglu-olimpiyat-ruhunu-tum-dunyaya-yasatma