Actions
Triple Olympic Champion James Tomkins Joins WOA Executive Committee
17 | 11 | 2016
World Olympians Association is pleased to announce the appointment of Australian Olympian James Tomkins as the newest IOC representative to join its Executive Committee. Tomkins, an influential member of the IOC Athletes' Commission, has been nominated by the IOC President's Office to replace Angela Ruggiero, who will step aside from her WOA duties following her election as Chair of the IOC Athletes' Commission.
Tomkins, a champion rower who participated in six consecutive Olympic Games between 1992 and 2008, is one of Australia's most decorated Olympians – winning three golds and one bronze medal over the course of his lengthy career.
He also has a wealth of experience in sports administration, joining the Australian Olympic Committee (AOC) Athletes' Commission in 2008 before going on to represent his fellow athletes internationally as part of the IOC Athletes' Commission in 2012. As an IOC member, he also represents the interests of athletes on the IOC Olympic Programme and IOC Marketing Commissions.
WOA President Joël Bouzou said:
"The WOA is delighted to welcome James Tomkins as the latest IOC representative to join our Executive Committee. James' incredible accomplishment as an Olympic athlete speaks for itself and he has proven himself to be a dedicated advocate for his fellow Olympians through his ongoing involvement within the Olympic Movement.
"We would like to thank Angela for her outstanding contribution to the WOA and wish her well as she steers the IOC Athletes' Commission forward over the next four years. Having met with James during the recent IOC Commission meetings in Lausanne, I am confident he will be an excellent addition to our Executive Committee and will use his extensive experience to build on the great work Angela has started and help further strengthen and develop the good relationship between the IOC and WOA."
Six-time Olympian and IOC Athletes' Commission Member James Tomkins said:
"I am delighted to be appointed to the WOA Executive Committee as the IOC Athletes' Commission representative. The WOA seeks to serve Olympians and to mobilise them to serve society. I look forward to helping to facilitate the collaboration between our two organisations, in order to better keep athletes at the heart of the Olympic Movement."
Tomkins replaces Angela Ruggiero as one of five IOC appointed representatives on the WOA Executive Committee. The IOC representatives were first appointed in January of this year following the adoption of the new WOA Constitution which formalised the strengthened working relationship between the IOC and WOA.
In a further example of the close association between the two organisations, WOA Treasurer Patrick Singleton has recently taken up his duties as WOA representative on the IOC Athletes' Commission. Patrick, who represented Bermuda at three Winter Olympic Games, was in Lausanne to attend the recent two-day strategy meeting with other members of the Athletes' Commission. He replaces former WOA representative Amadou Dia Ba of Senegal who previously sat on the commission.
Image below: James Tomkins pictured far right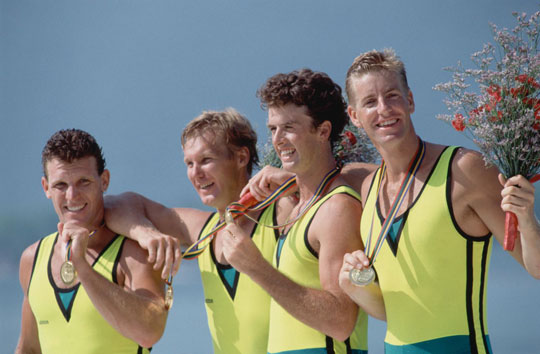 Photo credit: IOC