Actions
Iceland NOA Engages Country's Olympians
20 | 12 | 2016
2016 has been a busy year for the Icelandic Olympians Association (SIO), which has been working hard to grow and develop the organisation to best represent the interests of the country's Olympians.
With a total pool of 255 living Olympians, the SIO's membership is made up of a small but engaged group of past and present Olympic athletes. All Icelandic athletes that have competed at an Olympic Games since first appearing at London 1908 are automatically registered as members of the organisation - the SIO's mission now is to make its tight-knit community of Olympians even more active.
Its list of tasks for 2017 include enhancing support for Iceland's young Olympians, promoting the Olympic Movement in schools and sports clubs and activating the older generation of Olympians through a series of social engagements to celebrate their participation in the Olympic Games.
The SIO has also been updating its communication channels to include a new Facebook group as well as an updated members list with details of all Iceland's Olympians along with photos and brief bio information on each.
Among the other initiatives in the pipeline are the publishing of three books on Icelandic Olympians in the Summer Games, the Winter Games and in the sport of handball at the Olympics; a potential TV series on Iceland's involvement in the Olympic Games, and the concept of an Olympic Sports and Chess Museum in Reykjavik.
Jón Hjaltalin Magnússon, Chairman of the Icelandic Olympians Association (SIO), member of the Iceland Olympic Handball Team that competed in Munich 1972 and President of the Icelandic Handball Federation across three Olympic cycles from 1984-1992, said:
"We are proud to be of service of our fellow Olympians in Iceland and to work in the best interests of Olympians at all stages of their lives. As part of our new approach we recently held an event to celebrate the participation of Icelandic Olympians who competed at the Olympic Games in 1936, 1956, 1976, 1996, 2006 and 2016 at which the President of Iceland, Guðni Th. Jóhannesson, was present.
"The President is from a "sports family" as his father, Jóhannes Sæmundsson, trained Iceland's track and field athletes at the Munich 1972 Olympic Games and his brother, Patrekur Jóhannesson, was a member of the Icelandic Olympic Handball Team that finished 4th at Barcelona 1992. More than 100 Olympians and guests were present at the event to hear him speak.
"The SIO also has an annual golf tournament planned to ensure we can consistently create opportunities to engage with and support our membership and our community."
At the recent Olympians event Mr. Magnússon received the Icelandic NOC highest honorary medal for his good work and service for the Icelandic sport movement. The award was presented by Iceland's NOC president Mr. Lárus L. Blöndal.
The SIO is interested in forming a closer relationship with the other Scandinavian NOAs in order to boost support within the region. World Olympians Association Executive Committee member and Swedish Olympians Association representative, Pernilla Wiberg, has been in contact with the SIO to discuss ways the organisations can better work together in a mutually beneficial capacity to support the region's many Olympians.
Part of a larger project the WOA is implementing is to have each NOA connected to their wider continental grouping (Asia, Oceania, Europe, Africa and America) via a digital community on the Olympic Athletes' Hub. It is hoped that by establishing an online forum for each continental grouping, NOAs will be able to readily share knowledge, updates and insights from their own country in order to help others in their region.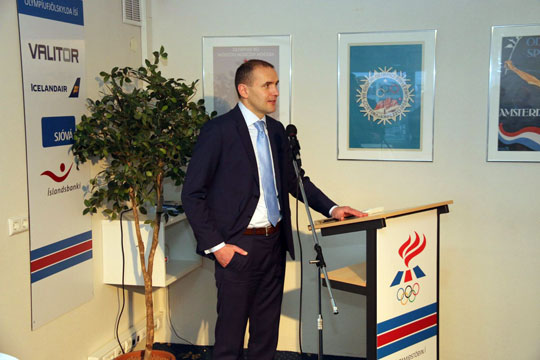 President of Iceland, Gudni Th. Johanesson, addresses the Icelandic Olympians Association at a recent event.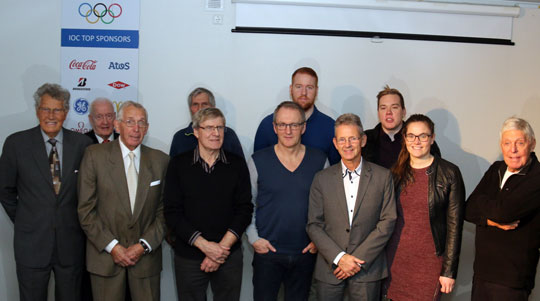 Icelandic Olympic skiers: Þórir Jónsson (1948 alpine), Ásgeir Eyjólfsson (1952, alpine), Jóhann Vilbergsson (1960, 1964 alpine), Kristinn Benediktsson (1960, 1964, 1968 alpine), Árni Sigurðsson (1964 alpine), Reynir Brynjólfsson (1968, alpine), Halldór Matthíasson 1976 cross country), Einar Ólafsson (1984 cross country), Einar Kristinn Kristgeirsson 2014 alpine), Brynjar Jökull Guðmundsson (2014 alpine) and Erla Ásgeirsdóttir (2014 alpine).
Main image includes four of Iceland's Olympian swimmers: (L-R) Sigrún Brá Sverrisdóttir (2008), Elín Sigurðardóttir (1996, 2000) vice president of Icelandic Olympians Association, Kolbrún Ýr Kristjánsdóttir (2000, 2004) and Lára Hrund Bjargardóttir (2000, 2004).