Actions
WOA has successful meetings in Lima during IOC Session
18 | 9 | 2017
WOA President Joël Bouzou, Secretary General Tony Ledgard and CEO Mike Miller had a very busy and productive week at the IOC Session in Lima last week.
Before Joel and Mike arrived arrived, Tony was part of a delegation that accompanied IOC President Thomas Bach on a visit to the Lima Sports Village where a number of the sports at the Pan American Games Lima 2019 will be held. The delegation met with the sportsmen and women who were in training for the Pan Am Games. Tony was there representing the WOA and the Peruvian Olympians Association.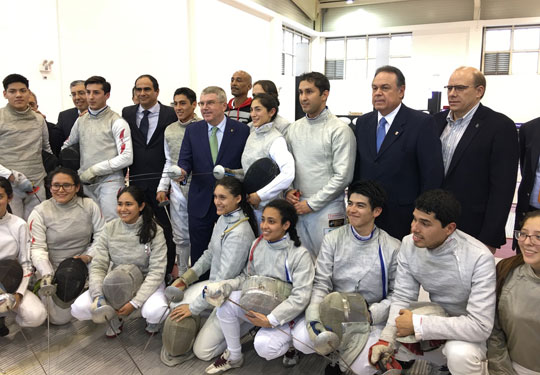 WOA Secretary General, top right, with IOC President Thomas Bach visiting Lima Sports Village
The three held a series of successful meetings during the week with, amongst others, the IOC Director General Christophe De Kepper during which they discussed long-term strategy. They also met with IOC Athletes' Commission chair Angela Ruggiero and IOC Entourage Commission Chair Sergey Bubka, where joint working on the soon-to-be-launched Olympians' mentoring programme and the Olympians Medical Survey were discussed.
Tony and Joel were in the IOC Session hearing first-hand about the IOC's new Athletes Commission Strategic Plan and the host city bids for Paris 2024 and Los Angeles 2028. Productive meetings were held with both about the Olympians Reunion Centres in Paris and LA. More details on that soon.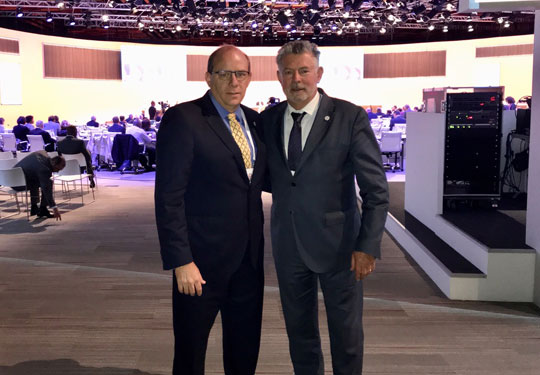 WOA Secretary General Tony Ledgard and President Joel Bouzou at the IOC Session in Lima
A very good meeting was held with Korean Olympic Committee President Kee-Heung Lee where plans for WOA activities benefiting Olympians at PyeongChang 2018 were discussed. A number of exciting functions and activities have been agreed, which will be communicated once all the details have been finalised.
In their busy schedule the WOA trio also found time to meet with representatives of Peru's Olympians Association in the Insitu Bar at the IOC Session headquarters hotel, The Westin. Two of the four Duarte basketball brothers from the 1964 Peruvian team, Ricardo and Lucho, were there along with Monica Liyau Ho (Table Tennis 1988), Juan Giha (Shooting 1992), Rosario de Vivanco (Swimming 1964, 1968) and Rosa Garcia (Volleyball 1988). As you can imagine, there were plenty of stories about the good old days, but also news of the current service to society programmes run by the Peruvian Olympians was shared along with Pisco Sours, Inca Colas and other less traditional drinks.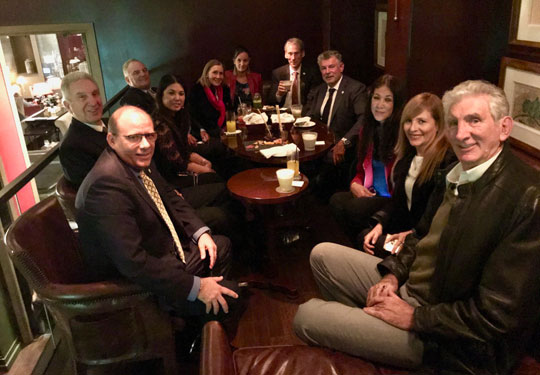 Peruvian Olympians and WOA share the Olympian spirit in Lima
WOA President Joël Bouzou said: "It was great to meet up with the Peruvian Olympians and to hear first-hand their passion and dedication to spread the power of Olympism through their work in sport with young children of many communities. Their hard work and dedication, and the work of thousands more Olympians like them around the world, is making a real difference to the lives of so many. I was proud to be in their company and to enjoy their friendship and humility during our stay in Lima.
"Our meetings in and around the IOC Session were very productive for the WOA and for Olympians around the world. I am very much looking forward to announcing the practical outcomes of these meetings over the coming months. I would also like to thank our Peruvian hosts. They ran an excellent event and we saw first-hand the reality of the famed Peruvian hospitality."