OLY House Tokyo 2020
Olympians for Life
At each edition of the Olympic Games we induct five Olympians into Olympians for Life.
Olympians for Life honours Olympians who have drawn on their Olympic experiences to make the world a better place by promoting the Olympic Values at every stage of their lives.
Our inductees for Tokyo 2020 represent all five continents and have risen to the top levels of their post-sport professions, been trailblazers for equality in sport, contributed to the COVID-19 response and inspired their communities with humanitarian work.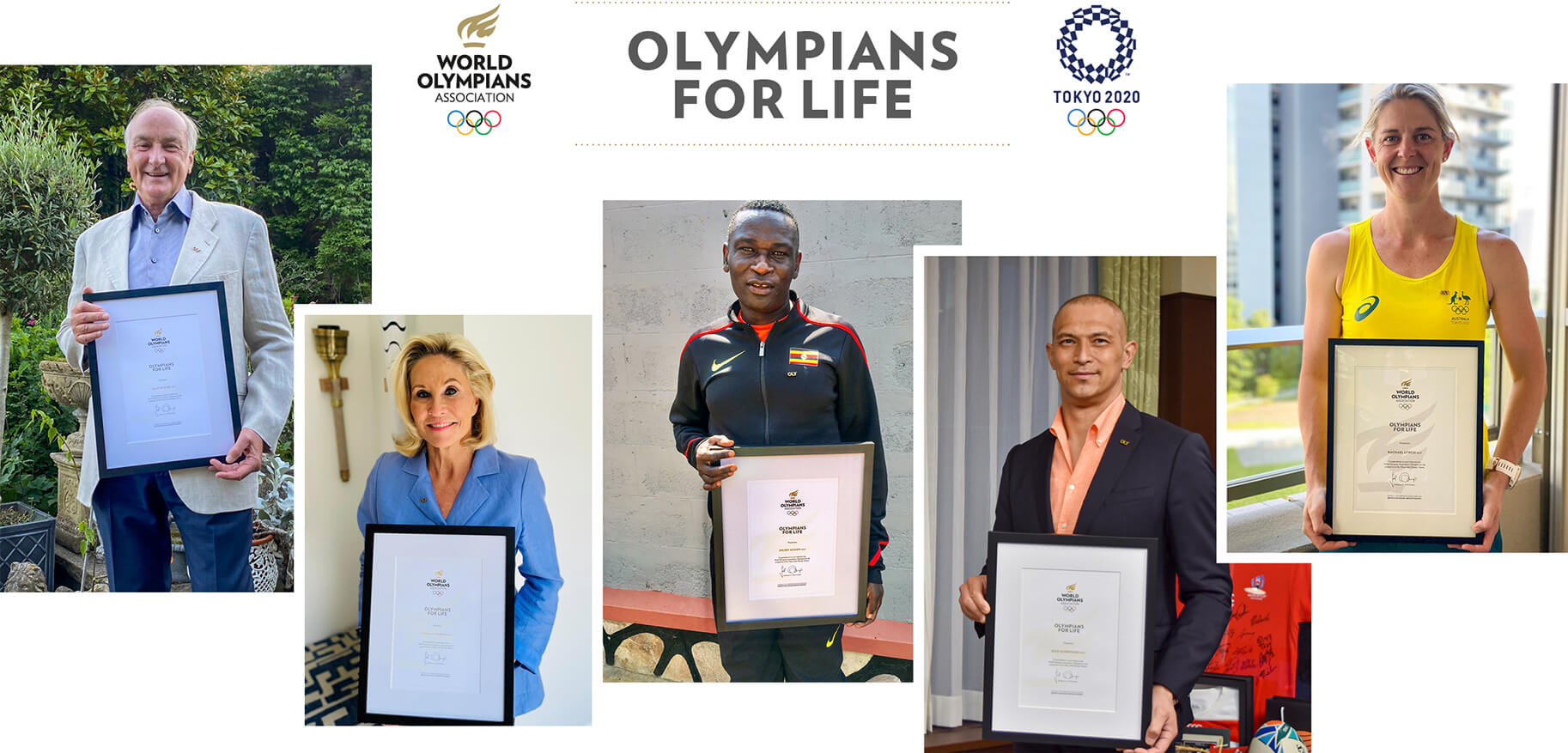 Julius Achon OLY

Overcoming the odds to empower the next generation in Uganda

"Throughout my time competing I have been passionate about giving back to my community during times of hardship. Fundraising for health centres, taking care of orphans and coaching the next generation of Ugandan athletes has been incredibly fulfilling and these are all causes I continue to support. In life, never give up. Be determined and learn how to bring others to follow your footsteps, because this will change the world."

Donna de Varona OLY

Blazing a trail for women's equality in sport

"Being an Olympian is a foundation of opportunity and hope. My experiences as a 13-year-old competing at the Rome 1960 Olympic Games changed the trajectory of my life and inspired me to fight for equal opportunity for all. I would tell all Olympians to persevere and never give up. We have the tools and the ability to organise and create real change that benefits the entire world."

Rachael Lynch OLY

Giving back to communities and fighting COVID-19

"Working as part of Australia's COVID-19 response has been hugely rewarding and something I feel strongly about contributing to as a trained nurse. I have been afforded so many opportunities from the sports community throughout my career so far and it's hugely important for me to take every opportunity I can to give back - especially during these challenging times for the world."

Koji Murofushi OLY

Rebuilding Japan through sport

"Following the Japan earthquake in 2011 I saw first-hand the incredible effects sport can have on communities impacted by disasters. This inspired me to use my sports administration role and my experiences on and off the field to use the power of sport to open up more opportunities for others to participate in sport and understand the benefits of adopting healthy lifestyles."

Alan Pascoe OLY

Pioneering the modern sport business landscape

"When you reach the Olympic level in many cases you have proven you can achieve the impossible and having achieved the pinnacle in sport Olympians can achieve the same in life beyond competing. I've dedicated my post-Games life to developing the sports industry commercially, but also to creating more opportunities for children to play sport in order to equip them with the valuable lifelong skills it provides."
To find out more about Olympians for Life and our past inductees please click HERE.